Discover more from MindWar: The Psychological War on Democracy
Writing, research and podcast for understanding and resisting the propaganda, psyops and malicious actors assaulting global liberal democracy. #IAmAntiFascist
Over 9,000 subscribers
Hey Harvard Did You Drop This?
Erin Gallagher is full of shit
They are coming for my Substack everyone. This person has been spreading disinfo and targeting heretics for a long time — and it's astonishing that she has any remaining credibility whatsoever.
I asked for information about one of her co-conspirators, aptly named "Conspirador Norteno" because he is clearly targeting anyone who follows me or speaks up at all for suspension on Twitter.
I don't "doxx" people and I didn't "threaten" anyone.
This person goes in the "Academics" category of #RealBlueAnon. She's a liar and an infiltrator. Sorry to bring you this news.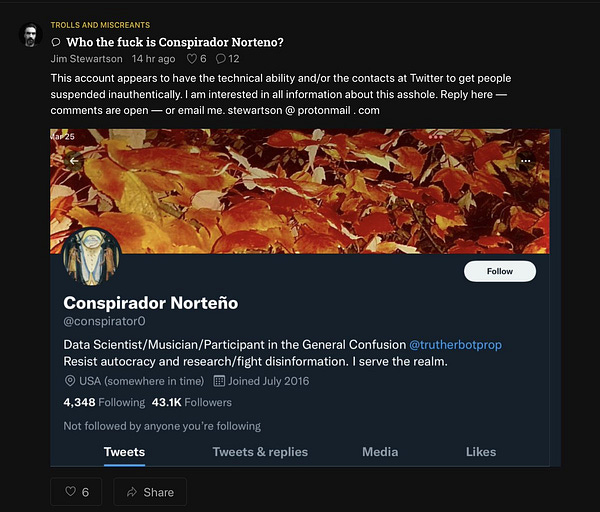 PS The "activist" she's talking about is #KassandraSusan.
PPS She certainly is qualified to write about this subject. Unfortunately this is disinformation.
The purpose of this entire article is to "debunk" Russian influence in fake Antifa accounts. What an odd conclusion considering the Russians and their proxies in the US are almost entirely responsible for the infiltration of "Antifa."
This is especially ironic considering that Erin Gallagher is herself fake Antifa pushing Russian propaganda — which seems to be at odds with the conclusion of her article.
So, Erin Gallagher, I guess since you've taken more of an interest in me, I'm going to have to take more of an interest in you.