Discover more from MindWar: The Psychological War on Democracy
Writing, research and podcast for understanding and resisting the propaganda, psyops and malicious actors assaulting global liberal democracy. #IAmAntiFascist
Over 9,000 subscribers
"Sound of Freedom"—Gateway Drug to Genocide
A film funded, performed and promoted by grifters, propagandists and fascists should not be normalized
I've been spending a lot of time recently investigating and exposing the child-trafficking exploitation film "Sound of Freedom"—including its funders, producers, performers and promoters. This has ignited a firestorm on Twitter.
The New York Times printed a "review" of the film that gives it credit for being a true story told by people who actually care about the problem of child abuse and trafficking. It is not.
I tweeted a lengthy criticism of this review explaining in detail who was behind the film and the effect it was having on Americans. It went viral—by far my most shared tweet.
In response to my well researched and documented thread, I received thousands of responses like this.
After hours and hours of hand to hand combat with people who wanted me dead, I wrote this:
Wow, this escalated. Let me explain.

Child-trafficking is a real issue that has been exploited to create undue influence aka brainwashing in tens of millions of people.

That's why in the last 24 hours I've received dozens of death threats and thousands of accusations of being a "pedo."

Starting in 2016, there has been an ongoing psychological operation to create fear about pedophiles—generally defined as Satanic Democrats led by Hillary Clinton but, importantly, a "pedophile" can be *anyone* identified by a cult leader.

The vast majority of child sex crimes are committed by family and friends. "Stranger danger" is a phobia planted through trauma—in the form of lies about "800,000 missing children per year," adrenochrome, etc.

Pizzagate, QAnon and derivative groups have been distributing "trauma porn" depicting child torture for seven full years—while presenting people like Donald Trump as the literal savior of the phantom missing children. This is classic fascism: manufacture a problem, create a scapegoat, and present yourself as the solution.

The reason this post went viral is that it addresses the harm caused by lies about this subject which both resonates with people who have lost family and friends to Pizzagate/QAnon lies, and also people who suffer from undue influence themselves.

When cult members are presented with evidence that counteracts the cult doctrine, they suffer cognitive dissonance—literally mental pain. Seeing a post that questions what they've been terrified into believing is painful. So they lash out.

While I do not enjoy having my life threatened or being accused of child sex crimes, I also understand that people brainwashed with this powerful psychological warfare tactic actually believe what they say. And their cognitive dissonance keeps them in line.

I see the conversation about this as helpful and hopeful, no matter how many threats & accusations are wielded. We need to collectively understand the actual problem, with both real child predators, and those who falsely see them around every corner.

I also hope the nytimes will begin to take more responsibility for what they publish. Presenting this film out of context is dangerous.
As my readers know, I've been a target of Mike Flynn since I started exposing him three years ago. Here is how Flynn is currently weaponizing this film.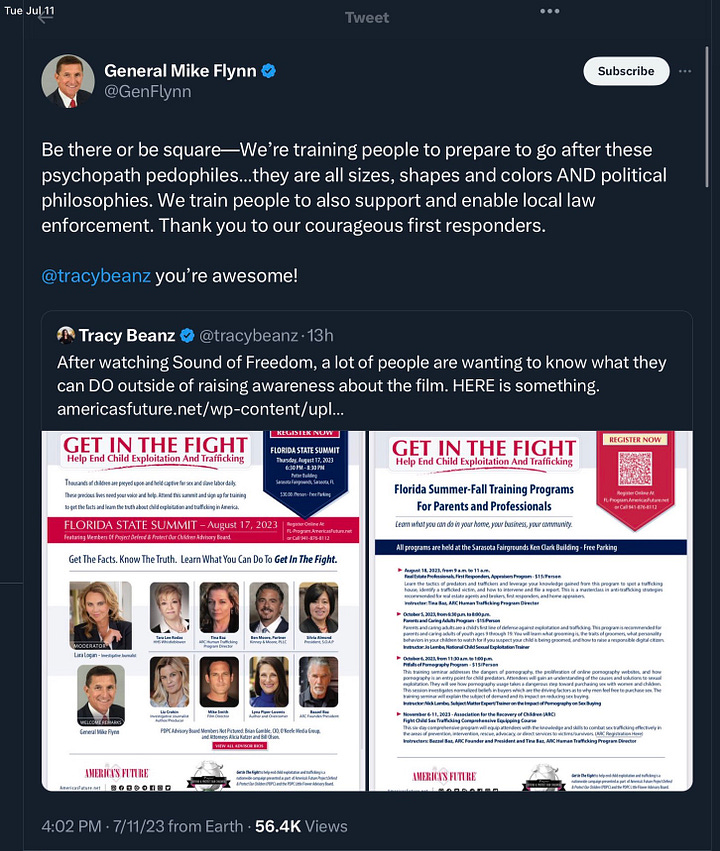 Mike Flynn is recruiting people to go to a "training" program in Sarasota to "go after psychopathic pedophiles" run by the vilest Pizzagate propagandists on Earth. Flynn first says the "pedophiles" could be anyone, but then narrows it down to Democrats who criticize the film "Sound of Freedom."
The exploitative content of the film is almost besides the point. At the end of the movie, deeply brainwashed QAnon cult member Jim Caviezel implores the audiences to "pay it forward" by giving their personal contact information to the dangerous grifter who made the film and buying free tickets for strangers to be indoctrinated.
As I've written, anyone can be indoctrinated into a cult, especially when traumatized with lies about children. This abuses the human instinct to protect children in order to present a false solution to a boogeyman. It's the fascist playbook.
If you know people who have seen this movie and have been influenced by it, here are some thoughts about how to talk them.
I've been exposing many problems with the child-trafficking film "Sound of Freedom," but the reality is that millions of people have already seen it, as will millions more. What now?

The movie is well-designed to cause a normal human reaction to trauma—to seeing kids tortured.

Normal people who've seen the film will be genuinely upset—who may have no idea who the filmmakers are or who funded it. They may have never heard of QAnon or Pizzagate. They just know that *kids are being hurt*—somewhere. And they want to help.

In my view, the best way to work with someone you know who's seen the film is to let them know you feel the same way about child-trafficking—it's as close to true evil as it gets. But if they want to DO something about it, they need to be very thorough in vetting anyone before trusting them.

Let them know there are bad people who exploit the problem of human trafficking in the guise of helping it, and provide real resources of organizations that can be trusted.

While I am extremely blunt about this dangerous film and the people who made it, it is not the fault of the people who've been tricked into seeing it that they care about a real issue for the wrong reasons.

Weaponizing this topic is about as despicable as it gets. It cuts very deep—as intended. But my hope is that pain can be redirected towards legitimate ways to help.

Please feel free to reply with any *vetted* sources
The movie "Sound of Freedom" is not the root of the problem, it's a symptom of years of unabated trauma suffered by people who have been attacked by psychological weapons. Child-trafficking and child abuse are the most serious issues imaginable, but the "Sound of Freedom"—like Pizzagate and QAnon—is being used to recruit and indoctrinate people into a death cult.
#ArrestMikeFlynn
---
I could use your help. I'm under fire and struggling to keep the lights on while I fight multiple frivolous lawsuits. Please consider upgrading to a paid subscription! You get:
Access to all content

Ability to comment and join the community

Weekly 90-minute Zoom chat

Deepest gratitude
I also have a DonorBox, if you prefer.
Thanks again! 💙
MindWar: The Psychological War on Democracy is a reader-supported publication. To receive new posts and support my work, consider becoming a free or paid subscriber.