Discover more from MindWar: The Psychological War on Democracy
Writing, research and podcast for understanding and resisting the propaganda, psyops and malicious actors assaulting global liberal democracy. #IAmAntiFascist
Over 9,000 subscribers
Twitter Terrorist Remi Barrette Sends His Goons to My Substack Again
"Conspirador Norteno" is precisely what he claims to be against.
Mediocre tango musician Remi Barrette aka "Conspirador Norteno" is losing his shit because he knows his entire operation is getting blown up. So he's sending psychopathic chaos agent Matt Donovan back to my Substack to do this again.
Remi Barrette wants to talk about the "entertainment value" of a "harassment swarm" which is ironic considering for six years he has generated and amplified disinformation and coordinated harassment with the goal of traumatizing and silencing people.
Remi is retweeting this person, who I tried to reach out to but she got mindfucked so badly by "QuacksAnonymous" aka Satanic Sorcerer Jason Miller about me that she's spent the better part of the last year and a half writing batshit conspiracy threads about me personally. She is referring to me in her tweet, as Remi knows.
Of course Remi Barrette retweeted Mike Rothschild's pathetic attempt to project his own behavior onto me.
ICYMI, I responded to Mike:
Remi retweeted fake researcher and Shed troll Erin Gallagher in order to cover up for his own criminal behavior in nuking an account he doesn't like.
Pretty sure this was one target Remi is going to regret.
Remi has been trying to get me banned from Substack and employed Erin Gallagher to participate.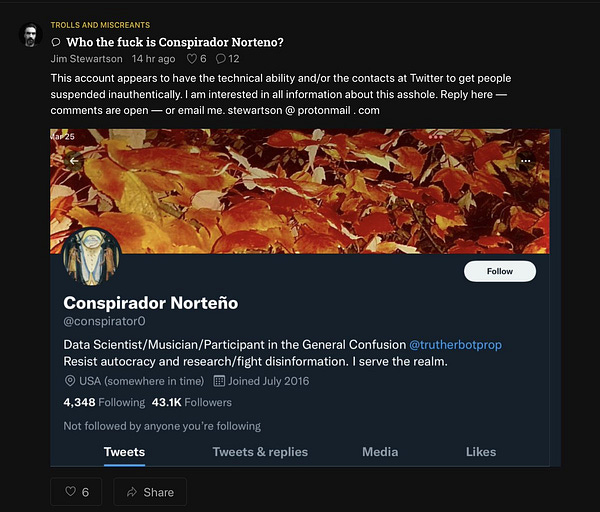 And of course Remi Barrette is promoting his colleague Susan Portnoy in her attempt to LARP as a Michigan "Resister" again despite six years of running operations that serve fascists from her apartment in New York City.
Like all good chaos agents, Remi is going to keep escalating. The problem is I have the truth on my side and all Remi has is a record of being a fascist, harassing terrorist.
Remi is going to get sued. And he's going to get a door knock from the RCMP.
I am entirely tired of this motherfucker and his allies. Here's a simulated conversation between Remi and Susan when they inauthentically banned my friend Peter yesterday.
I'm in no mood to back down and the more they come at me, the more I will reveal about them.
#ArrestMikeFlynn