Discover more from MindWar: The Psychological War on Democracy
Writing, research and podcast for understanding and resisting the propaganda, psyops and malicious actors assaulting global liberal democracy. #IAmAntiFascist
Over 9,000 subscribers
A few days ago I wrote about the exhaustion that comes from being subjected to a relentless stream of blatant corruption, white supremacy, gun violence and cruelty while the justice system seems entirely broken. Of course, this is precisely what the enemy wants, for people to be so wrung out they give up to authoritarianism.
As my readers know, I have no intention of giving up, so to make myself feel better for the last few days I've been engaged in what I can't help but think of as full-contact information war.
At this point, there is really nothing people can say about me personally that affects me at all, so I confront bad actors and groups directly with the specific intention of studying their reactions. For example, this tweet about Kremlin propaganda and trolling operation Chapo Trap House.
While the likes and retweets are fairly modest, here are the stats for this tweet.
I was "ratioed" by waves and waves of trolls which were then amplified by Chapo's blue-check allies. 654k people saw this tweet, the vast majority of whom are Chapo cult members who were sent to target me from Discord chat rooms.
Here is a random sampling of some of the replies in this massive brigade. There is no significant difference between this and what you would see on 4chan, despite the fact that all of these people are theoretically on the opposite end of the political spectrum.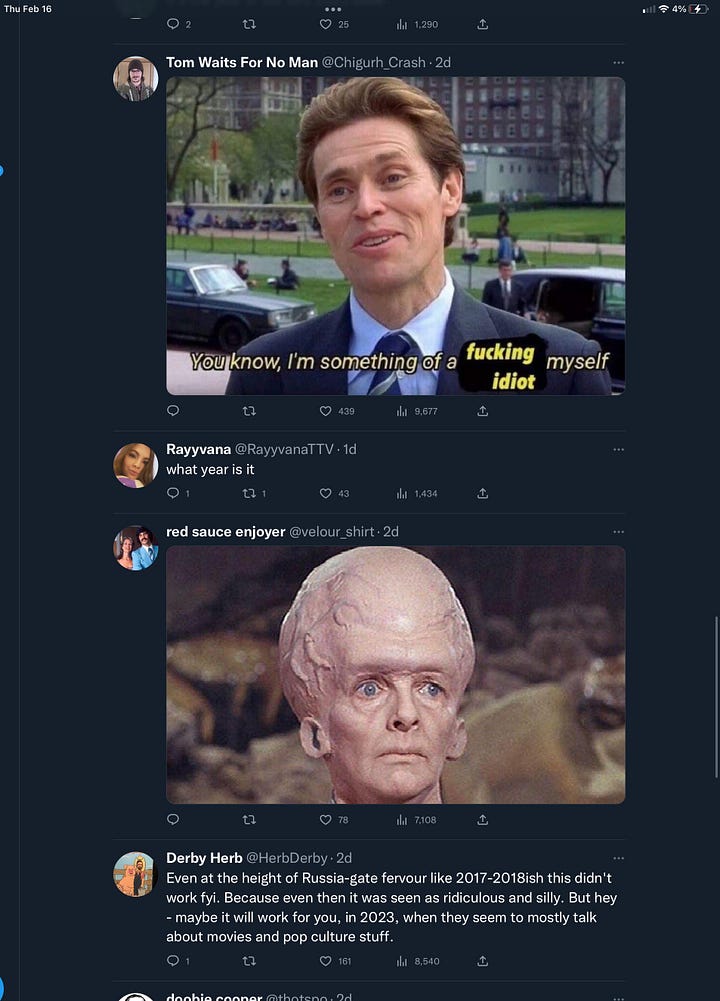 This tweet also brought a number of very large blue check accounts into focus. People like ex-WaPo Dave Weigel with 584k followers who intentionally targeted me to continue the brigade. His reasons for weaponizing his followers against me are fascinating.
The idea that Chapo didn't come from GamerGate is ridiculous. Of course it did. And the idea that Chapo didn't bear responsibility for the /chapo subreddit is comical. The podcast QAnonAnonymous is a direct outgrowth of Chapo, and the hosts' best friend is GamerGate cult leader Fred Brennan.
Another tactic I've been using is riding and shaping Twitter trends to achieve certain goals. I saw "WWIII" trend because of Elmo's tweet and took the opportunity to make it clear what's really happening here. This went pretty viral and brought a massive brigade of Elmo bots along with it.
I also saw #BlockElon trend and hopped on that one as well. 🤓
I watched Nikki Haley's presidential announcement speech and noticed she used "Eye of the Tiger" as walk-in music. A quick search led me to the fact that the band Survivor has sued every Republican who has used the song in the past, so I pointed it out and tagged them.
This tweet about the 2nd Amendment was fascinating mainly because of the "debate" in the replies which involved a bunch of MAGA ammosexuals trying to troll the libs who, by and large, were crushing every argument and exposing their irrational and illogical defense of tens of thousands of murdered Americans every year..
Finally, I wrote a thread about neo-Nazi chaos agent Chuck Johnson, who continually denies being a Holocaust denier while he continually denies the Holocaust.
ICYMI, Chuck Johnson is a Nazi who works for Peter Thiel.
Chuck and his minions attempted to make up a conspiracy theory last night about me which involves me somehow being the puppetmaster behind the "UFO op" that's been going on because someone's uncle's friend knows the barber of the cousin of… sorry I got lost. 😂
The problem these bad actors have with me is that I am not intimidated by them and I know more than they do. No amount of trolling or lying is going to stop me from trying to protect my country and my family.
As always, thanks to everyone for your support. I literally could not do it without you. 🙏💙
#ArrestMikeFlynn
MindWar: The Psychological War on Democracy is a reader-supported publication. To receive new posts and support my work, consider becoming a free or paid subscriber.