Discover more from MindWar: The Psychological War on Democracy
Writing, research and podcast for understanding and resisting the propaganda, psyops and malicious actors assaulting global liberal democracy. #IAmAntiFascist
Over 9,000 subscribers
The Big Setup: "It's Biblical"
A collaboration of theocrats, fascists and traitors are scripting us into the End Times
Hi! If you haven't upgraded to a paid subscription, please consider it! This is the only way I support myself while in the challenging position of fighting an information and legal war with the worst people on Earth. Benefits to upgrading include:
Ability to comment and join the community

Weekly 90-minute Zoom chat

Early preview of my book as I write it (Chapter One)
I also have a DonorBox, if you prefer. Thanks again! 💙
The world is being set up by Vladimir Putin and a conspiracy of theocratic fascists to do a global performance of End Times mythology. The Hamas atrocities were designed as psychological warfare to ignite an ancient conflict over Jerusalem that appeals to deep ethnic and religious divisions that stretch across the entire world.
Jerusalem
Jerusalem was first settled in 4500 BC but has been fought over by various occupiers and invaders for more than three thousand years. This list includes the Canaanites, Greeks, Persians, Romans, Byzantine, Crusaders, Saladin, Ottomans, & British.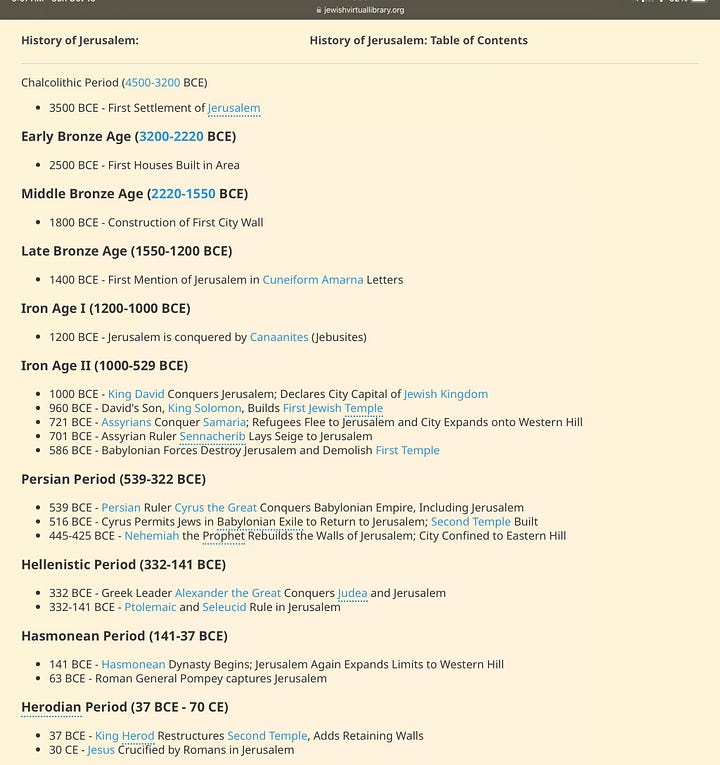 Invading and capturing Jerusalem has been the fever dream of religious extremists for millennia and its being used once again to incite genocidal violence. Three religions see Jerusalem at their divine birthright—Judaism, Islam and Christianity.
Extremist Islamists believe their savior will come only if they occupy Jerusalem.
Extremist Christians believe Jesus will only return to save them if they occupy Jerusalem.
Jews, having being exterminated and expelled from everywhere else in the world have every right to take a hard line to protect Jerusalem and Israel—which was reestablished after the Holocaust.
Hamas
Hamas are Islamic terrorists whose charter dictates the slaughter of Jews, the end of Israel and occupation of Jerusalem—but Hamas has never done anything on the scale of the atrocities it committed last week.
It's important to note that in the long run Christians will receive no mercy from Hamas either, and that Hamas identifies with Saladin who defeated the Catholic Crusaders to occupy Jerusalem.
Previously Hamas terrorism had been largely guerrilla attacks, suicide bombers and subjugation of the Palestinians in Gaza. But in the last two years, Hezbollah, Hamas and related islamic terrorists received $134M in untraceable crypto during the same period. Hamas alone received $41M, according to the Wall Street Journal.
Six months ago Hamas leaders were invited to the Kremlin.
Putin and Hamas "have long enjoyed ties" and recently "Moscow began to sharpen its criticism of Israeli actions" towards the Palestinians.
Iran/Hezbollah
Hezbollah is a large well-trained force of 100,000 troops, with at least that many rockets. They are the equivalent of Wagner Group for Iran with real combat experience in Syria—not incidentally, alongside Wagner.
Israel's war with Hamas—and Hezbollah, as will undoubtedly happen—is a proxy war with Russia's ally Iran. But Putin also has direct relations with Hezbollah leadership.
Moreover it's been reported that Hezbollah sent hundreds of fighters to Russia to fight in Ukraine in exchange for allowing Hezbollah to buy weapons from a Russian defense contractor.
Putin's arms deals and strategic defense relationship with Iran are well-known.
Netanyahu/Likud
The Prime Minister of Israel Benjamin Netanyahu and his Likud Party have been propping up Hamas for many years & ignoring Israeli terrorism in Gaza.
Netanyahu's obeisance to Vladimir Putin is well known. And, importantly, if Netanyahu is deposed as PM, he will go on trial on corruption charges.
As Israel was reeling from unspeakable slaughter & hostages being taken, Netanyahu went on TV and said that reports he had been warned ahead of time by Egypt were "fake news" & propaganda.
That was a lie. Israel, Egypt & the US confirmed he was warned 10 days ahead of time. It took 4-8 hours for Israeli Defense Forces to arrive at the sites of the slaughter.
Putin
The one person a brutal holy WWIII in the Middle East will benefit is Vladimir Putin.
His military has been shredded and pushed back to a standstill in Ukraine. He knows the 2024 elections in the US are existential to his regime. If the US and NATO hold, his life is over—so he's trying to cause a conflagration to distract us or cause enough chaos to prevent the 2024 election from happening at all.
America/Mike Flynn
In the United States, the Kremlin's propagandists are running full steam with the narrative that the war in Israel means we are close to the "End Times."
QAnon has been transmuted into a christofascist Crusade on Mike Flynn's radicalization tour.
This weekend, Flynn's tour was at Trump Doral with his usual propagandists and foreign agents—including disgraced Kremlin QAnon priest Archbishop Carlo Vigano who claims God believes the same QAnon stuff that Mike Flynn and Donald Trump do.
Vigano worked with Steve Bannon and former head of the Knights of Malta, Cardinal Raymond Burke, to create an alt-right fascist training camp in Italy—before the project was canceled.
Flynn, Vigano, Bannon, Erik Prince, and the Order of Malta are all allied in the project to split the Catholic Church in order to destabilize the west to benefit Putin.
Putin's assets in the US are embracing the war, virtue signaling that they "stand by Israel" when the truth is that behind the fig leaf of right-wing support is a genocidal antisemitic belief that in order for Jesus to come save them, Jerusalem must be occupied by Christians. Jews and other non-believers will be "left behind" to die.
Christofascist cults across denominations are ratcheting up talk of spiritual war, increasingly alluding to the Crusades and various versions of the Apocalypse and holding up Vladimir Putin as a good Christian strongman loyal to Trump.
None of this is a coincidence. We're being scripted to go to war over a tiny piece of land made holy by three different religions—which are all based on the same book—to benefit a Russian imperialist war criminal and his collaborators.
Nyet.
#ArrestMikeFlynn
MindWar: The Psychological War on Democracy is a reader-supported publication. To receive new posts and support my work, consider becoming a free or paid subscriber.