Discover more from MindWar: The Psychological War on Democracy
Writing, research and podcast for understanding and resisting the propaganda, psyops and malicious actors assaulting global liberal democracy. #IAmAntiFascist
Over 9,000 subscribers
Hello friends. Please consider upgrading to a paid subscription. After three years of doing this work, I'm struggling to keep afloat while I fight off multiple frivolous lawsuits. Benefits to paid subscribers include:
Access to all archived content

Ability to comment and join the community

Weekly 90-minute Zoom chat

Early preview of my book as I write it

Deepest gratitude
I also have a DonorBox, if you prefer.
Thanks again! 💙
---
In Fulton County, Georgia, District Attorney Fani Willis has added additional security to the courthouse and asked her employees to work from home out of concerns for their safety.
It's been widely reported that Willis's investigation includes possible racketeering aka RICO charges. And there is no question that she will indict Donald Trump.
Similarly, Jack Smith, who has already indicted Donald Trump in the classified documents case, twice, will indict him for the insurrection without a doubt.
Of course, the question is still outstanding. Who else will Willis and Smith indict?
As my readers know, for the last three years I've been involved in full-scale information war with the worst traitor in American history, Mike Flynn aka "Q." He's used every dirty trick, including frivolously suing me for defamation to try to silence me about the danger he poses to American democracy.
But in the last few days, Mike Flynn has essentially confessed to everything that I've been saying about him—including many of the things he claimed were defamation. He has fully embraced and weaponized the most horrific of his psyops, "Pizzagate," which alleges that Hillary Clinton is a Satanic pedophile who eats babies.
Pizzagate was morphed by Flynn's group MAGA3X into QAnon after Flynn was caught lying about talking to the Russians and got fired as National Security Advisor.
Flynn is currently conflating the genocide gateway film "Sound of Freedom" and "Pizzagate," while running a "training" program to "go after psychopath pedophiles" who Flynn identifies as Democrats who don't like "Sound of Freedom."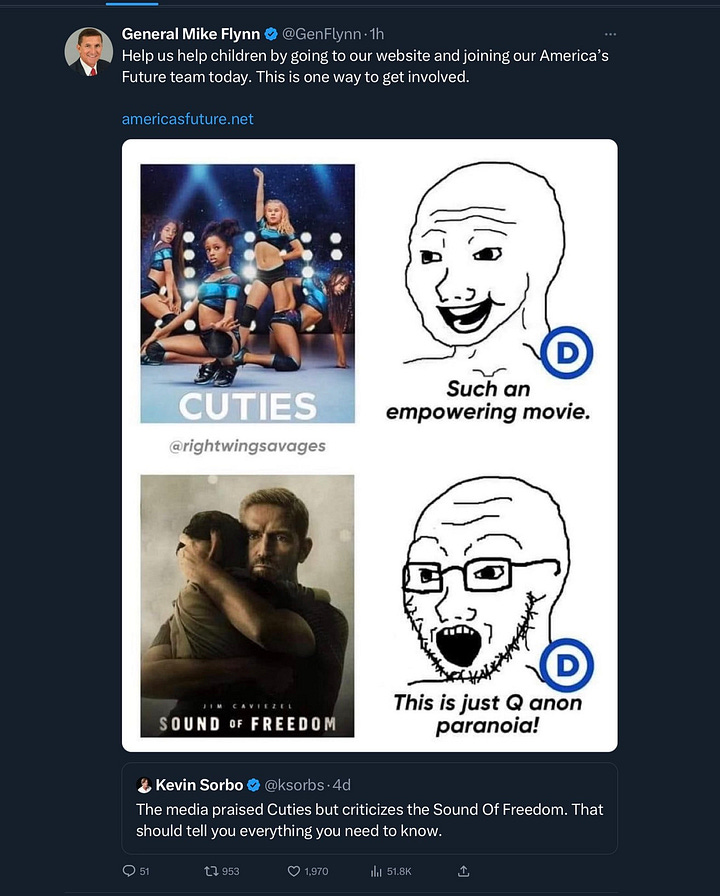 Here is Flynn's sister Mary admitting the pedophile-hunting "training" is based on "Pizzagate" and "Podesta's emails" with instruction from vile propagandist Liz Crokin.
This is mobilization of a death cult to target Flynn's political enemies based on the same lies that ISIS told its suicide bombers:
"The infidels are coming to torture, rape and murder your children."
These are the techniques Mike Flynn studied in Afghanistan and brought back to America to deploy on American citizens.
While Flynn openly pushes his death cult to violence, he's also starring in the sequel to the most watched QAnon/Pizzagate indoctrination film in history "Out of Shadows" which had over 100 million views on YouTube before they banned it.
This is a desperate move by a desperate man trying to whip his cult into violence in order to overthrow the government that can bring him to justice.
Flynn is pulling out all the stops now. Either our justice system—in the form of Fani Willis and Jack Smith—will indict, arrest and stop him from continuing his war on American democracy, or not.
If they don't, our democracy may not survive.
If they do—and dear god I hope so—batten down, because it's going to get even uglier.
#ArrestMikeFlynn
MindWar: The Psychological War on Democracy is a reader-supported publication. To receive new posts and support my work, consider becoming a free or paid subscriber.