Discover more from MindWar: The Psychological War on Democracy
Writing, research and podcast for understanding and resisting the propaganda, psyops and malicious actors assaulting global liberal democracy. #IAmAntiFascist
Over 9,000 subscribers
Winning Poker on the Titanic
Last night was a tremendous victory for sanity and democracy in a system that is teetering on the edge of oblivion.
Celebrating victories in an environment like this is important. Democrats exceeded expectations in this off-year election and secured crucial victories in Kentucky, where Andy Beshear outperformed and held on to governor, the VA Senate stayed blue, and a law legalizing abortion in OH passed.
I could not be happier about this. The body politic, in many ways, is healthy. But it still has a fatal, untreated malignancy. I cannot help but feel a lot like I'm celebrating a winning hand of poker on the Titanic.
As
says, our first job in an attempted fascist takeover is not to panic, and we should take heart that there is still sanity to be found in America. But we must also face where we really are head on. The wins last night were a good indicator that democracy still has a chance—but only if we prevent our enemies from destroying us first.
Vladimir Putin and his transnational allies, including those in the United States, are intentionally creating the ingredients for a Middle East conflagration which is intended to distract us from Putin's war crimes in Ukraine, and to further incite polarization, radicalization, and violence in the West—particularly in the U.S. Unfortunately, his plan is working.
Putin's influence has forced, bought, cheated and lied its way to the top of the extremist wings of all three major religions. His romance with Netanyahu, his embrace of extreme Islam, and his complete takeover of the Republican Party means he can pit all his rivals against each other—in the guise of religion.
Putin is now boasting about the war he's created by projecting his own operations on to the U.S. who he says is "promoting non-stop chaos" to "destabilize its rivals"—which is, of course, straight out of the Goebbels playbook.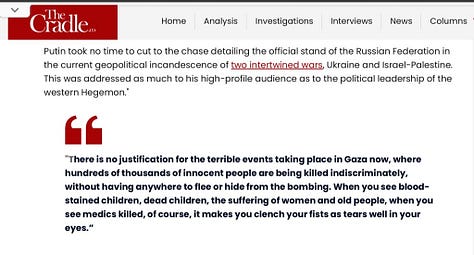 Mike Johnson, a Seven Mountains dominionist, who is not loyal to the Constitution but to a "mandate" that requires him to destroy American democracy in favor of installing a Christian theocracy, is third in line to the presidency, while two thirds of SCOTUS Justices are in a christofascist, anti-liberal cult.
None of our political victories matter while we live in a post-political world where the game is being played through psychological warfare and manufactured world wars. I would love to be able to celebrate a political triumph without feeling like it's hollow in the face of psychopaths who want the end of the liberal world order.
My deep concern is that Democrats, the President and the DOJ will see this as a sign that democracy has been saved after all, and take their foot off the gas demanding accountability—and stopping the traitors intentionally trying to overthrow the government.
I should say, my situation is not the same as your average American, who generally speaking just gets on with their lives—as they should. But as someone on the front lines of exposing this threat, and watching the level and absurdity of the attacks trying to prevent me from doing so, I can say first-hand, the war is not over, it's getting worse.
The swarming group of stalkers on Xitter is outdoing themselves trying to discredit, smear and defame me. Elon Musk "shadowbanned" me, which makes me invisible to anyone except my followers, drastically reducing my reach. And former NSA Mike Flynn added people who had the temerity to have me on their podcast to his frivolous defamation lawsuit—and raised the total to $50 million. Think about that.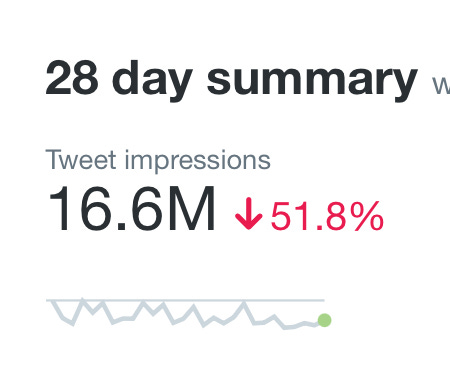 Why would so many people be working so hard to shut me up? Why spend so much money and effort to defeat an unemployed blogger? It's not because I'm a crazy conspiracy theorist. It's because the truth is an existential threat to them.
Please keep the pressure on. Do not get complacent. Celebrate winning the battle and move forward. Keep demanding that the justice system and law enforcement keep us safe, that psyops and propaganda be openly addressed, and that the traitors in our midst be held accountable. #ArrestMikeFlynn
---
If you haven't upgraded to a paid subscription, please consider it. If you have, please share my work with anyone who might find it of value. This is the only way I'm supporting myself while in the challenging position of fighting an information and legal war with the worst people on Earth. Benefits include:
Ability to comment and join the community

Weekly 90-minute Zoom chat

Early preview of my book as I write it (Chapter One)
I also have a DonorBox, if you prefer. Thanks again! 💙
MindWar: The Psychological War on Democracy is a reader-supported publication. To receive new posts and support my work, consider becoming a free or paid subscriber.