Discover more from MindWar: The Psychological War on Democracy
Writing, research and podcast for understanding and resisting the propaganda, psyops and malicious actors assaulting global liberal democracy. #IAmAntiFascist
Over 9,000 subscribers
Hello friends. Please consider upgrading to a paid subscription if you haven't. Benefits to paid subscribers include:
Access to all archived content

Ability to comment and join the community

Weekly 90-minute Zoom chat

Early preview of my book as I write it

Deepest gratitude
I also have a DonorBox, if you prefer.
Thanks again! 💙
---
After three years of doing everything in my power to warn about the fascist insurgency plaguing America and the world, I'm used to being frustrated and persisting anyway. But recent developments have raised my blood pressure to a different range and I know I'm not alone.
I recently posted that "tweeting about fascism is like yelling at a tornado" which is the best image I can think of for trying to break through the ignorance, complicity and corruption in the media, military and government while a raging, looming threat bears down on us.
As I've written, the "General" of the insurgency, Mike Flynn, is escalating his rhetoric to a new level of apocalyptic fantasizing about "black swan events" while he openly distorts the Holocaust. In a deeply alarming 2 hour interview yesterday with the christofascist-friendly podcast PBD, Flynn laid out his motivations and goals in stark detail.
Flynn was also confronted with his Holocaust distortion by a Jewish host, which Flynn mocked and deflected. The entire interview was a blatant effort to whitewash Flynn's record of treason and promote him as someone who should be in the White House.
Flynn has still not been charged, and there's no indication he or his partners Roger Stone, Steve Bannon or Erik Prince are being investigated by Jack Smith's grand juries—much less on the verge of indictment.
Here is what Mike Flynn's apocalyptic war of psyops and propaganda has created.
"My entire future is bankrolled on Donald Trump winning this election because if not we're gonna devolve into the anarchy we've all been expecting… a revolutionary war, a civil war or a completely Purge-like atmosphere… I prepare for complete fucking anarchy."
Proud Boy terrorist Joe Biggs, a good friend of the Flynns, was sentenced today by a Trump judge who gave him 17 years—out of a maximum of 33 years, after listening to Biggs cry and claim he was "pulled along by the crowd." The judge wished Biggs "best of luck" after giving him a downward departure from sentencing.
"It's not my job to label you a terrorist."

—Trump Judge Kelly
As someone who watched Biggs' signals to warn people about 1/6, I know for a fact that he was not "pulled" by anything. Violence with the left was the plan from the start. Despite that plan not working, Biggs was the first person to tear down the barricades anyway.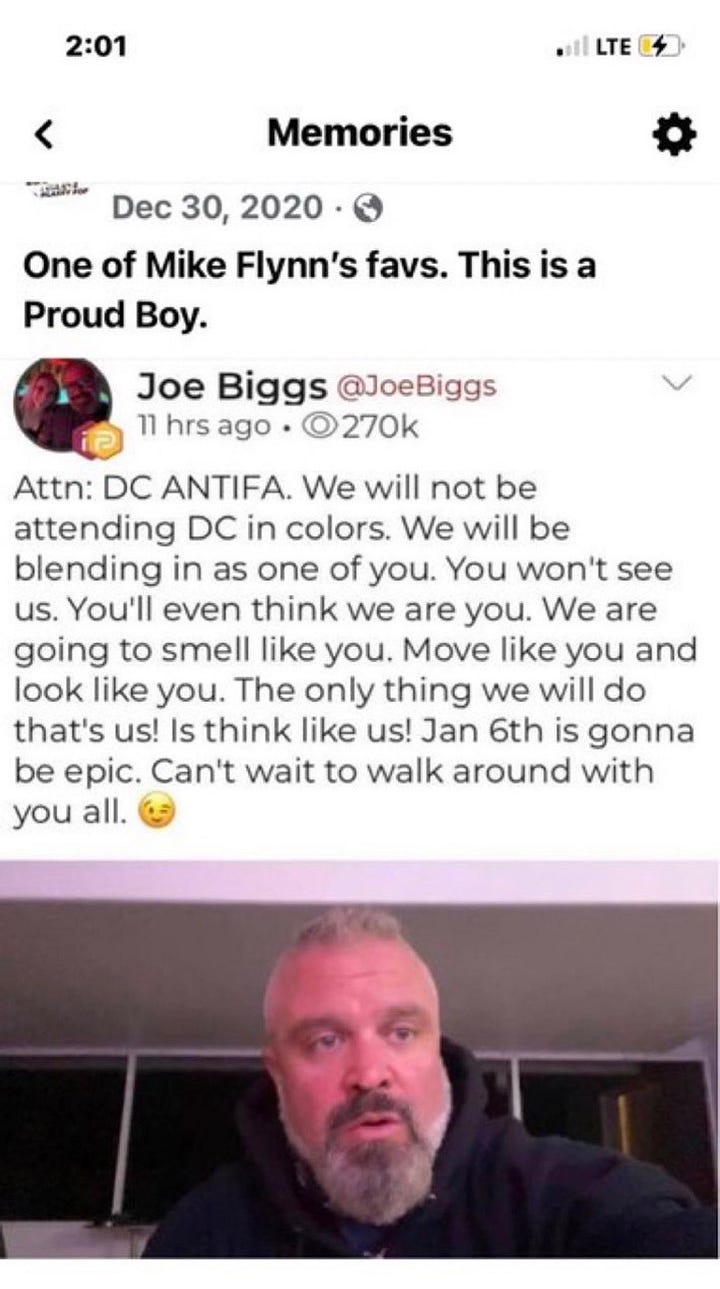 What is the press doing to help? Well, the feckless New York Times printed an "Opinion" that provided a "map of key players" in "Trump's plot" to steal the election that didn't include ANY of the people who actual planned it.
"Fringe Players": Mike Flynn, Roger Stone, Steve Bannon. No sign of Erik Prince. This is not just incompetent, it's dangerous. It cements the false impression that the justice system has a handle on what happened, which it plainly does not.
I am deeply concerned that there is a concerted effort to protect the people behind this crime against democracy. It's bizarre and unconscionable that in the 32 months since J6, the DOJ still seems to have no clue who actually did it, and the military will do nothing to stop Mike Flynn from his acts of war and blatant treason. In fact, we all still pay his pension.
We need a movement to make our voices heard above the noise generated by the enemy. We need a platform large enough to get through to the government and the military leadership to make them hear that we are not satisfied. We need to unite around a message that accountability is not just for certain people in America.
We need a bigger tornado.
Arrest Mike Flynn.
MindWar: The Psychological War on Democracy is a reader-supported publication. To receive new posts and support my work, consider becoming a free or paid subscriber.